People who want something unusual this Christmas can read this article about an artificial Christmas cross that looks incredible.

Add a spiritual element to your holiday decorations with this Christmas Cross topiary. It can be embelished or left as is to make a statement.

Unfortunately, it's very difficult to but this kind of incredible artificial Christmas tree online these days. Retailers that sold it when I first created this page have either gone out of business or simply stopped stocking this item (originally the "Vickerman dura-lit artificial Christmas cross").

But all is not lost!
Make Your Own Christmas Cross Tree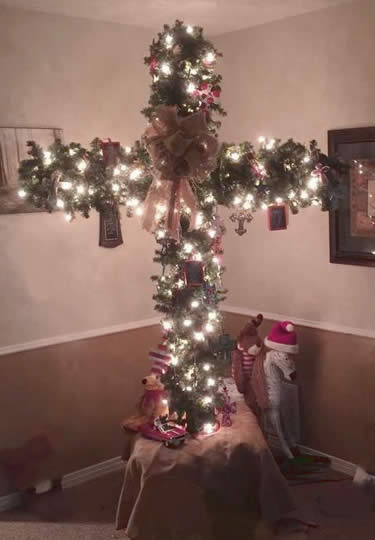 If you can't buy the kind of unique item that you want, why not put on your hobbies and crafts hat and make your own!

This type of tree is actually quite easy to make with things you can buy at any hardware store. It'll make a great project for the kids to help out with too!

You'll need:
A regular christmas tree stand with 1" diameter tube (or make your own with scrap lumbar)
Two lengths of 1" diameter PVC tubing depending on the height and width you want to end up with
Duct tape and florist's tape
Fake evergreen garlands
Mini lights
If you're handy with an electric drill, you could mark the point on the longer pipe where you want it to intersect with the cross pipe. Mark the center of the cross pipe too. Drill out a semicircle (1" in diameter) on the upright tube from one edge to the center.

Fit the cross pipe into the semicircle notch you have drilled out of the upright pipe. Make sure it is dead center using yoru mark. Use duct tape to secure it in place.

There's your cross framework!

Next, fit the lower end of the upright pipe into the base and secure it.

Now have fun wrapping the garlands around the pipes, securing them in place using florist's tape.

Lastly, decorate with lights and decorations of your choice to make a stunning display!

You can use whatever materials you can get hold of, really. Some poeple have used scrap lumbar beams to form the cross framework. Others have used chicken wire. Some others have even used paper mache to make a small cross and hung it from the ceiling.
A Cheap Homemade Christmas Cross
If you want to go the cheapest way and save all the work, you can always head down to the Thrift store and pick up a cheap regular artificial tree for a few bucks. Then strip out most of the branches, leaving just the central ones in place.

Form the remaining branches into a cross shape, fixing them together with florist's tape. Then weave the branches you removed around the new framework to thicken it and make it look fuller. Decorate as you like and you'll have a great looking cross that your friends will be envious of!