If you want to add more festive color to your home this Christmas, garlands are a great way to achieve a fuller, more cheerful look in places like mantels, porches, stairways etc.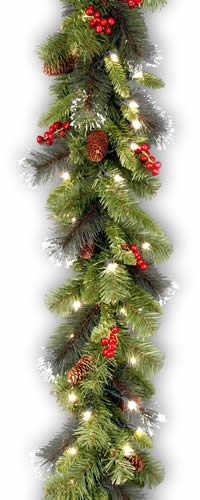 You can get them at the stores or buy online and they are well worth the added investment to beautify your home for the holidays.

There are plenty of different types to choose from, with some plain or with berries and others with glitter and lights to add real sparkle to your decorations.

I have some suggestions below that you might be interested in looking at in more detail.

Note: As an Amazon Associate I earn from qualifying purchases.

National Tree Crestwood Spruce Garland with Silver Bristle, 9ft by 10in
Take a look at the image below right of this well covered, beautifully decorated garland complete with red berries, pine cones, silver bristle, glitter and lights.
This can be purchased online from Amazon in singles or multiples if you want to fit them together end to end for a larger display.

The great thing about this item is they come with male and female adapters at each end to make fitting them together easy.

The lights all connect up via the end connectors, so you can string several together to make a really stunning illuminated display.

It measures a whole 9ft in length with a 10in diameter making it look quite thick and generously decorated.

It is suitable for use both indoors and outdoors making it highly versatile as a festive decoration that will look great wherever you place it.

It is artificial but don't let that put you off as it has a very real appearance. It will look beautiful on a mantle or around a doorway, adorning a porch or balcony or adding color to stairways or halls.