There are some really stunning christmas trees with multi-colored lights (pre-lit) that are available to but online right now.

These are trees that come ready-installed with beauifully colored lights that are ready to go right out of the box. Choosing a pre-lit tree can save you a lot of time and hassle by not having to decorate them with fiddly christmas tree lights yourself.
The Best Pre-Lit Multicolor Christmas Trees to Buy
Take a look below at some of my personal favorites I've come across recently:
6.5' Aspen Spruce Artificial Christmas Tree with Multi-Color Lights
People who want a classic multi-color lit Christmas tree can read this review of this multi color dura-lit tree that stands 6.5ft high and looks amazing!

Description: This gorgeous Aspen spruce tree is a sure-fire winner for making the holiday season merry and bright. It has multi-colored lights to light up the branches of this tree and also your home decor along with it!

The tree is a 3-piece easy assembly model that really is easy and fast to put up. It comes with replacement bulbs and spare fuses, plus a sturdy black metal tree stand.

Lights: Pre-strung with 350 UL listed multi-color lights. If one bulb burns out, the rest will stay lit.

Branch Tips: 817 tips. All branch tips are the same size and color. The hinged branch needle is made of a combination of Polyethylene (PE) and PVC..

Height: - 6.5 Foot
Width: 42 Inch
Usage: Indoor only

Click the image above to buy this incredible artificial Christmas tree at a great discount price.

Don't wait until they're all sold out. Be sure you're first in line to lock in your savings. ACT NOW!

Note: As an Amazon Associate I earn from qualifying purchases.
Honerable Mentions
Below are some older trees that still look great. I wrote about them some time ago because they caught my attention back then and they still look great today. Unfortunately, the seller is currently out of stock, so I have removed links to the items.
Noble Classic Christmas Tree PerfectLit LED Multi-Color 6.5ft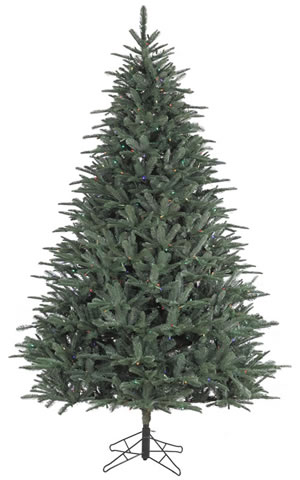 Description: Described as "Strong and Sturdy" by Good Housekeeping. The naturally irregular needles and sturdy branches make this tree a winner. The LEDs provide crisp light and high energy efficiency. PerfectLit strands do not go out even if a bulb fails.

Lights: 500 Multi-Color, Wide Angle PerfectLit LED Lights. The combination of LED lights with an advanced light strand! PerfectLit stays lit even if bulbs are removed from the strand. LEDs provide richer light than regular mini lights while using less energy. Each tree comes with a bag of replacement bulbs for easy replacement of unlit bulbs.

Branch Tips: 1,916 tips. All branch tips are the same size and color. The branch needle is made of a combination of Polyethylene (PE) and PVC. The molded PE creates a realistic Christmas tree while the PVC creates a fuller tree at an acceptable price range.

Height: - 6.5 Foot
Width: 52 Inch
Usage: Indoor Only


Noble Classic Christmas Tree PerfectLit LED Multi-Color 7.5ft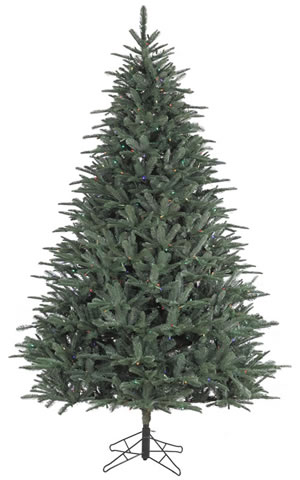 Description: Described as "Strong and Sturdy" by Good Housekeeping. The naturally irregular needles and sturdy branches make this tree a winner. The LEDs provide crisp light and high energy efficiency. PerfectLit strands do not go out even if a bulb fails.

Lights: 650 Multi-Color, Wide Angle PerfectLit LED Lights. The combination of LED lights with an advanced light strand! PerfectLit stays lit even if bulbs are removed from the strand. LEDs provide richer light than regular mini lights while using less energy. Each tree comes with a bag of replacement bulbs for easy replacement of unlit bulbs.

Branch Tips: 1,880 tips. All branch tips are the same size and color. The branch needle is made of a combination of Polyethylene (PE) and PVC. The molded PE creates a realistic Christmas tree while the PVC creates a fuller tree at an acceptable price range.

Height: - 7.5 Foot
Width: 46 Inch
Usage: Indoor Only