A lot of people have fallen in love with the Vickerman Flocked Slim Utica Fir Tree (6.5ft version) artificial Christmas tree to decorate their home this festive season!

Sometimes a plain slim Christmas tree is not enough to fire up your imagination. The flocked tree was created just for you and this one is a beauty!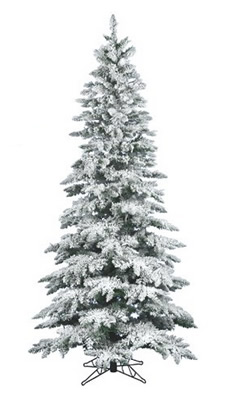 Here is a gorgeous authentic looking artificial tree with white flocking to make it look just like it has been covered in snow. It has a narrow enough base to enable it to fit into a small space and a generous 6.5ft height to provide you with an impressive centerpiece for your festively decorated home.
Features
Check out these very good reasons why you will want this tree in your life (and in your home) this Christmas:
Beautifully arranged with flocked branches for an authentic appearance
Metal hinged branches for easy assembly and disassembly
744 PVC branch tips for a fuller, bulkier look
Base diameter of 39 inches is small enough to fit most small rooms
Being unlit, you can choose which lighting arrangements you want to make while keeping the price ticket low. You can re-use last year's lights on this tree so they don't get wasted!

OH NO!: This item is currently out of stock
A Great Alternative: National Tree Kingswood Fir Pencil Tree 6.5ft
All is not lost, however. I have found an excellent alternative slim, flocked tree that has similar features to the Vickerman... AND an even lower price!
Take a look at the image to the right of this lovely, super slim tree! The one featured is 6.5ft tall and only 28in at the base so it will fit just about anywhere you want it!

I can let you in on a secret too... the regular price is currently discounted, so you will save money when you buy this tree now.

If you want a taller tree in the same design, there are height alternatives featured on the item's feature page at Amazon, ranging from 4.5ft, 6.5ft, 7ft, 7.5ft and 10ft if you want a really tall one!

This tree has a natural lifelike appeal, with artificial flocked branches that look realistic and very lifelike. It has 719 individually crafted branch tips to give it a full bodied appearance despite its slim profile, making it as charming and attractive as the real thing.

Of course, one of the main advantages of an artificial tree is its long-lasting durability. This tree is designed to beautify many festive holidays. It comes with a sturdy metal base to keep it upright even when the kids are playing around it.

It also comes with 250 UL white lights that are designed to remain lit even if a bulb burns out.

The time-tested needles are also fire resistant and non-allergenic (important features, I'm sure you will agree).

Click the image or the link below it to visit Amazon and buy this beautiful flocked slim artificial tree at a cool discount price NOW!